7 Strategies to Stay The Course – Continue Preparing for ICD-10 Transition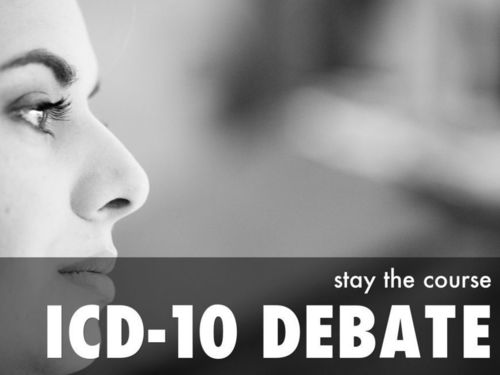 Today the Senate is scheduled to vote on a bill (HR 4302) that would implement a temporary fix for Medicare's sustainable growth rate formula and delay the ICD-10 compliance deadline until 2015, The Hill's "Floor Action" reports. Regardless of the outcome, providers must stay the course and continue preparing for the ICD-10 launch. It is wise to continue to follow your readiness path.
1. Completed coder and CDS training and evaluated productivity
• Finalize coder and CDI training to begin dual coding and assist with communicating with clinical staff
• Evaluate outsourcing options (consider safety net strategy) and begin to contract now
• Secure additional hires and provide training-bring coders in house for 30-60 days Sept 15th to November 15th and create a code at home program
• Prepare for an increase in denials, follow-up & other tasks expected due to the transition. Consider assistance from internal staff and/or outsourcing for all related front end and back-end processes
2. End to end testing
• When and how will you "dual code"? When will you begin?
• When will all your vendors be ready for integrated testing?
• Co-ordinate the measurements of workflow changes of ICD-10 with clinical, financial and quality and what will the reporting look like in these areas? What will be the impact to each area?
3. Review impact of ICD-10 by specialty
• Select a sample set of completed charts – highest Case Mix Index
• Natively code charts using ICD-10 (Without using a mapping tool) and outline the gaps in the documentation and create a public report to the clinical staff
4. Technical Testing Strategy
• Validate where the payers, clearinghouse, and other associated vendors are with their planning and quality assurance
5. ICD-10 Interface Testing
• Created a deadline of when you will test interfaces and how you will test them.
6. Map Out Your 2014 – 2015 Clinical Training Plan
• Have a Physician Advisory Role
• He or she should be attending department meetings and ICD-10 – a meeting agenda item in all sessions
• Finalize a plan for physician training to include all tools
• Schedule on-site physician specialty training securing dates and rooms
• Clinical documentation tutorials or advisory sessions should be mapped out with a mandate to hours of completion
• Schedule Physician advisory and CDS staff to attend physician departmental meetings and provide ICD-10 documentation specificity essentials and guidelines
7. Additional Points for Consideration • Have you incorporated CAC or CDI into your ICD-10 strategy? • Important: CMS testing is not end to end testing. There will be no adjudication of claims to provide payment information • Verify if your claims clearinghouses offers similar testing where the provider sends test claim files and the clearinghouse will apply basic ICD-10 edits to the test file
Content provided by Lyman Sornberger. Presentation created by Phil C. Solomon
_____________________________________________
Phil C. Solomon is a healthcare finance, clinical documentation and revenue cycle BPO strategist with experience spanning two decades. Phil has expertise in the areas of revenue cycle optimization, clinical documentation improvement, healthcare technology integration and BPO outsourcing. He is the publisher of Revenue Cycle News, a healthcare revenue cycle blog and is a featured speaker at many HFMA, NAHAM and AAHAM healthcare educational conferences.
{ 0 comments }